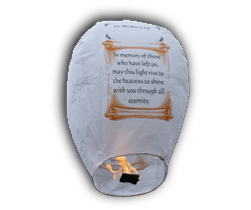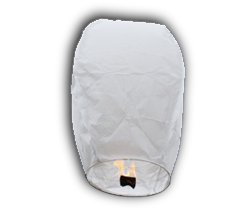 What Are Sky Lanterns ?

Also known as Kongming Lantern, Chinese lantern, Wish Lantern, or Floating Lantern is a small hot air balloon made of paper, with an opening at the bottom where a burning fuel cell is suspended.

In Asia and around the world, they have been traditionally made for to be launched for play or as part of festivities. According to the historian of science Joseph Needham, the Chinese experimented with small hot air balloons for signaling from as early as the 3rd century BC. Their invention is attributed to military strategist Zhuge Liang 181-234 AD.

How Do They Work ?

The heat provided by the burning fuel cell produces hot air that fills the balloon. The air inside the enclosure is less dense causing it to rise in the more dense out side air. Lanterns rise faster and go higher when the difference in temperature between the air inside the lantern and the outside are greater. So in other words they work better in cool / cold weather. Used in temperatures in the high 90's to 100's may prove difficult. When the outside temperature is high you must allow more time before releasing!